We are happy to announce that Yahoo! has acquired a license to Yamli's technology, to be integrated across a number of its products and services.  The deal comes as part of Yahoo! focus on developing solutions tailored for the Middle East and North Africa region (following its acquisition of Maktoob), and will allow the company to further develop the technology and extend it to a wider audience across its network.
Since its launch in 2007 Yamli has empowered Arabic speakers all over the world to easily type Arabic even when they are not used to an Arabic keyboard or don't have access to one. More than 3.5 Billion words have been typed with Yamli, that's roughly the equivalent of 12 Million Wikipedia articles, or 70,000 novels
Ahmed Nassef, Vice President and Managing Director, Yahoo! Maktoob, said, "Yamli is a pioneering startup that created a clever solution for a real user need and built it on a robust technology, which remains best in class.  By acquiring a license to the technology, we are able to marry it with our capabilities to further develop it and scale it to a wider audience through deep integration with our products and across multiple platforms.  When looking at opportunities, we seek innovations that add significant value to our offering, and Yamli, with its technology that brings exeptional accuracy and seamless usability, was a natural fit."
As a first phase Yahoo! Maktoob has launched "3arrebni"  as a standalone destination page and will be integrating in the following months Yamli's technologies with with Yahoo! Messenger, Yahoo! Mail in Arabic, Yahoo! Search, forums, news, comments…
The deal will not affect Yamli's operations as it will continue to operate as is. Yamli's business model has been shifting from a consumer-based revenue model, focused on advertising, to business to business licensing of its transliteration and other technologies. The Yahoo deal marks a major milestone in that pivot
Only a few days ago, Google announced a new official version of Chrome that supports extensions.  As soon as we got the news we jumped right at developing an extension for Yamli's Smart Arabic Keyboard. We faced a few kinks but we are now happy to officially launch Yamli for Chrome.
So give it a try and let us know what you think If you like it share it with your friends and leave your reviews on the Chrome extension page.
You might notice that the extension doesn't work on all sites (for example Gmail) and this is due to a bug in Chrome. It should be fixed in the next Chrome update but in the meantime you'll get notified if you are trying to enable the extension on a site that's not supported
Want to work at Yamli and be part of the next big thing on the Arabic Web?
Like every other startup, we're on a mission to change the world, in our case the Arab digital world. Our passion is to develop useful, intuitive, and innovative products for this extraordinary emerging market. We are not afraid of experimenting and love crazy ideas, and we want our team to feel like they are making a difference. If you are smart, like working in a group, love to learn, and aren't afraid to try new things, you belong at Yamli. We are looking for both key junior and senior software engineers with expertise in the web or mobile spaces. We are still small, which means that everyone who joins will be able to make big impact and help us overcome major challenges with big rewards for hard work and creativity. We believe that at the at end of the day, it's all about the people and want to build the top flight agile software engineering team in the Middle East.
Think you have what it takes? Shoot us your resume to jobs@yamli.com along with answers to following questions:
What's your favorite development platform on the server or client and why?
Who is your hero in the development world and why?
What one product or gadget can you not live without and why?
What blogs/news do you follow?
What's the toughest bug you've had to fix and why?
Qualifications:
Web
BS or MS in Computer Science or equivalent.
Extensive experience with one or more server side platforms (Ruby on Rails, Java, PHP, or even ASP.NET) and a solid understanding of what happens under the covers (HTTP).
Extensive experience with client side development (HTML, CSS, Javascript and JS frameworks). UI/UX experience is also a plus.
Knowledge of relational databases and SQL. Knowledge developing and debugging on Linux systems.
Mobile:
BS or MS in Computer Science or equivalent. Extensive experience developing for Symbian, iPhone, Android, BREW and/or Windows Mobile.
Extensive experience with C/C++ and Java.
Experience developing multi-platform desktop applications and plugins (Windows/Mac/Linux/Qt) is a plus.
We are also looking for web designers with a decent understanding of web technologies.
UI/UX Designers:
Experience with illustration tools such as Adobe's Creative Suite
Experience in building interfaces using CSS, HTML, and/or JavaScript
Ability to quickly prototype and iterate towards production-level quality
Portfolios are welcome.
If your profile doesn't quite fit, ping us anyway if you feel you can pick things up quickly and contribute. We offer competitive salaries and stock options, and are looking for applicants preferably able to work in Beirut, Lebanon. Telecommuting may be an option.
[Photo by swilsonmc ]
We decided today to run a little script to see how many words have been typed with Yamli so far, and the result was impressive: 76,645,541, that is roughly equivalent to 255,485 Wikipedia articles ! We are happy that the usage of Yamli has been growing but most importantly are happy to contribute in the expansion of the Arabic content online.
Today, Yamli's Smart Arabic Keyboard powers a number of sites, such as As7ab and Clipat Maktoob, Ikbis, Annahar, Art-TV and about 200 more sites. Although our focus is on Arabic native speakers Yamli has also been used at some universities to help teach Arabic.
We thank our users again for the support and will continue in building products to empower the Arabic web.
As some of you may know, we released a preview of our Firefox add-on last week. We didn't go out of our way to publicize it, since we mostly wanted to get everyone's feedback regarding the functionality, and bugs of course
The response was very enthusiastic, but many of you wrote back suggesting to offer another non-toolbar mode.
Obviously many people have been traumatized by toolbars that popped out of nowhere after installing an unrelated piece of software, and especially with smaller resolutions people prefer to have a clean browser interface that maximize the browser content area .  On the other hand, toolbars can be very useful with the proper set of tools and added functionality.  So we decided to offer users the option:  You can choose to keep the full functionality of the toolbar, or you can go with a lighter and minimalistic option that we call the "mini mode":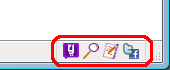 After you install the Yamli add-on, you will get to make the choice.  You can change the mode anytime later by clicking through the options.
I hope everyone who removed the toolbar will re-install the add-on (here) and give it a try.  I also want to let everyone know that we're not done with Yamli for Firefox, and are open to everyone's ideas and suggestions.  We have a few things that we think you'll all enjoy that will progressively get included as we implement them.
Let us know what you think!
Welcome to the official blog of Yamli. We are very excited about the launch of this blog and look forward to share with you our products, thoughts and hear your feedback.
About a year and a half ago, we launched Yamli with the vision of empowering the Arabic language and users on the Web and thanks to your support and suggestions we are inching forward towards our goal, and we would like to thank you for that !
We also want to take this opportunity to present a preview of our new gadget, the Yamli Firefox toolbar. Many of you have asked for an easy way to type Arabic with Yamli on any site, including email, social networks and instant messengers. Thanks to your feedback and suggestions we have been working on providing this functionality through our most recent gadget.
The Yamli toolbar enables users to type Arabic on any site with a simple click of a button. The main trick was to get it working right with Rich Text Editors, which are usually found in webmail sites such as Gmail, Hotmail, Yahoo and others.  The toolbar also allows search and provides comprehensive search results.
We also thought it would be a cool idea to add a Facebook and Twitter feature so that you can directly update your status from the toolbar.
You can download the toolbar preview from here. This is the first version and we'd love to hear your feedback and thoughts on what we can add or do to improve on it. What do you think ?